Forrest Road is the Old Town's only tree-lined street. The trees were planted as a way of extending Middle Meadow Walk right into the built-up heart of the city centre, stopping at the line of the Flodden Wall – Edinburgh's original city boundary. They give Forrest Road its own identity and help lure tourists and residents alike along George IV Bridge, and to stop on their way to and from the Meadows.
But  of the sixteen trees, six are dead or dying, with several more struggling to survive this exceptionally dry year – so far in 2015, at least up until last week, Edinburgh had only had 46% of its average rainfall, and many of the city's trees are suffering as a result.
To replant the dead trees will mean carefully felling them, extracting the stumps and roots without damaging nearby utilities and cables, re-filling the tree pits with fresh soil and then planting new trees. Because of the size of the new trees, and the fact that they are in a built-up, paved area, we will have to maintain and water them until they are well established.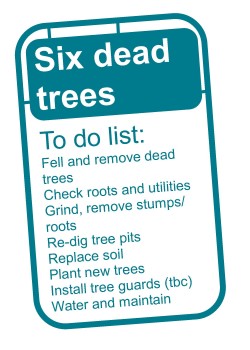 Over time the soil around all the trees has become compacted and dry, leaving the roots without oxygen and struggling to get water – to give them a new lease of life we need to de-compact the soil around the roots to let in air and water, add new soil and nutrients, and new surfacing designed to let water through. We need to assess each tree and selectively prune them to stimulate new growth.
ELGT have already secured a commitment from the city council to carry out some of this work, but we are support towards Tree Time Edinburgh and our dedicated Forrest Road tree-planting fund. Our target is £10,000 – which comes in at £625 for each of the street's sixteen trees*.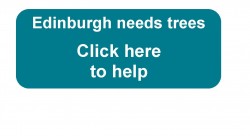 *As well as Forrest Road, the fund will pay for new or replacement trees in the immediate area.
---
1 Comment