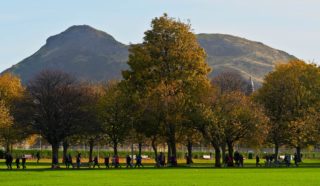 The United Nations General Assembly in 2013 decided to create World Wildlife Day to raise awareness of the world's wild animals and plants and the importance of protecting them. On the 3rd of March people all around the world hold events to celebrate the natural world and to raise awareness of the importance of protecting wildlife.
Many people are unaware that trees play a vital role in protecting our biodiversity. Trees are the biggest plants on our planet. They provide us with oxygen, they store carbon and they stabilise soil. Trees provide a crucial home for Scottish wildlife and provide homes to more animals than any other habitat. 
A single tree can be home to hundreds of species of insect, fungi, moss, mammals, and plants. Trees can provide food and shelter to many different creatures including insects, birds, bats and squirrels and provide an important essential link to many other species. Thousands of species are supported by trees from their leaves, bark, berries and blossoms, and by decaying wood when the tree reaches the end of its life
Without trees, many animals and other creatures would not have a home. Many different types of wildlife depend on trees for food, water, cover, or places to raise their young. Trees are especially important as they form "green corridors" and allow habitats to connect.
We must start protecting trees as they are the natural habitat of millions of species and without them, the world's biodiversity is at risk. Over the last 20 years, Edinburgh has lost over 2,450 street trees. 5% of Edinburgh's trees are deemed to be in a critical condition or dying and It has been calculated that Edinburgh needs to plant 6,500 trees every year over the coming years to compensate for those that we lose. 
Tree Time aims to work with partners and raise funds to begin planting now. Help protect Edinburgh trees and wildlife this World Wildlife Day by donating to Tree Time. Donations start from as little as £20 and you can decide to donate or adopt a tree in someone's name. Each donation comes with a beautiful, personalised certificate. Each donation will make an incredible difference to Edinburgh and will help to protect wildlife and their homes across Edinburgh.
 To find out more information on how you can donate click here. 
---
1 Comment