Two Edinburgh 'Good Neighbours' have been recognised with a commemorative Tree Time plaque unveiled in their honour in Craigmillar Town Centre in recognition of their work and the support they give their local communities.
The City of Edinburgh Council's Good Neighbour Awards, established in 2016, recognises those living in our communities who have gone that extra mile and have made an outstanding contribution to our local areas. It is a great way for tenants to pay tribute and nominate a fellow Council tenant or resident who has helped them.
Councillor Kate Campbell, Housing, Homelessness and Fair Work Convener and Councillor Mandy Watt, Vice Convener, met Mags and Satnam to hammer in the plaque and speak to them about what they did to be nominated and named the over all winners.
Councillor Kate Campbell said: "We'd like to congratulate both Mags and Satnam on their very well-deserved Good Neighbour Award – they are both very worthy winners. This tree is such a fitting way to mark their contribution to their communities and we thank them for all they have done despite the challenges thrown up by the challenges of the pandemic.
Charlie Cumming, Chief Executive, Edinburgh & Lothians Greenspace Trust, said "We are delighted to support the Good Neighbour Award in association with the Tree Time initiative. The tree adoption and plaque are a great way for the recipients to have a lasting legacy "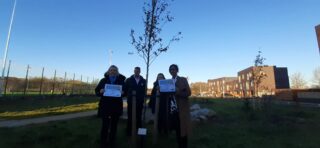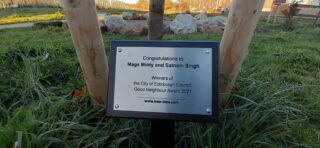 To hear more from the winner see here
---
No Comments