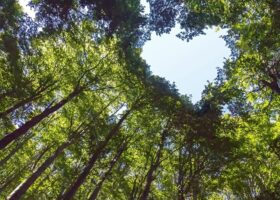 You may be wondering what to get your loved one this Valentine's Day, so why not try an unusual and eco-friendly gift with Tree Time? 
For many, a big bouquet of red roses is the ultimate and romantic Valentine's Day gift but many people are unaware of the environmental impact of this gesture. Since Valentine's Day is in winter it means that many flowers have to be imported from other countries around the world. The environmental impact of shipping cut flowers around the world is huge, and particularly around this time when there is a big increase in demand. While flowers are regularly shipped on planes throughout the year, the weeks before Valentine's Day see a massive increase in the number of flights completely dedicated to shipping flowers to arrive in time.
Flowers require a huge amount of water. Every flower stem requires 10 litres of freshwater to reach its full size before they can be sold. Flowers also need energy from electricity to grow, especially if they are grown in a colder climate, as well as the power to refrigerate them once they have been cut. Fuel is needed in order to transport the flowers to airports so that they can be shipped to other countries. Eventually when the flowers have withered and rot they will eventually be thrown in the bin and will end up in a landfill. As a result, they will produce methane, a powerful greenhouse gas. All of the above comes with a massive carbon footprint that affects the earth and the environment.
So this Valentine's Day, why not skip the flowers and choose the more sustainable gift of tree planting? Make Valentine's Day unforgettable and special this year and show your partner how much they mean to you by dedicating a tree to them. The tree will serve as a permanent reminder of your love that will continue to live and grow for years to come and will provide a long-lasting romantic tribute to your Valentine.
With every donation Tree Time will be able to plant more trees in Edinburgh in honour of your loved one. Each dedication will be provided with a beautiful certificate signed by The Right Honourable Lord Provost of Edinburgh to commemorate your dedication. If you really want to impress your Valentine and make the day extra special, you can also adopt a tree in Edinburgh. Each adopted tree comes with a personalised plaque placed on the tree. Whichever package you choose, you'll be making Valentine's Day even more meaningful with a unique present that will grow for years to come. You will also be giving a gift to wildlife and nature which helps the environment in the long run and provides a lasting legacy for future generations
To find out more information click here to find out the many options available.
---
No Comments