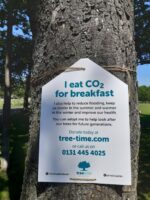 Join in the global celebrations for Earth Day on April 22nd by showing your love for trees and our planet with a tree dedication through Tree Time.
Earth Day is celebrated annually in over 190 countries around the world. Earth Day aims to raise environmental awareness and inspire action for environmental protection to address global challenges. 
Tree Time is an initiative run by Edinburgh & Lothians Greenspace Trust which is dedicated to planting new trees and protecting existing trees across the City of Edinburgh. Tree Time's tree planting programme builds on a commitment to make Edinburgh a "Million Tree City" in partnership with City of Edinburgh Council and The Woodland Trust. The aim is to replace trees lost from disease, age and damage and has a commitment to plant more trees across urban areas in the city.
Dedicating a tree is a wonderful way to celebrate Earth Day. Trees do more than beautify an area, they play a vital role in helping combat climate change by removing deadly emissions from the surrounding air, protecting our biodiversity and protecting us from flooding.
CO2   is a major greenhouse gas responsible for the Earth's rising temperature and climate change. As trees grow, they absorb and store CO2 and then release oxygen back into the atmosphere. Trees provide wildlife with homes, offer cooling shade during summer, block cold winter winds, purify our air, prevent soil erosion, clean our water, and provide beauty to local communities in Edinburgh. Trees play an essential part in protecting our planet, without them we simply can't survive. 
It has been calculated that 6,500 trees need to be planted in Edinburgh yearly to compensate for those that we lose and Tree Time Edinburgh aims to work with partners and raise funds to begin planting now. 
Dedications start from as little as £20. With every donation received, Tree Time can plant more trees in Edinburgh. A signed certificate by The Right Honourable Lord Provost of Edinburgh is provided with every donation.
Charlie Cumming, Chief Executive, Edinburgh & Lothians Greenspace Trust, said: "Dedicating a tree is an excellent way to honour Earth Day. Trees provide a multitude of long and short-term benefits from promoting various habitats and encouraging biodiversity, as well as being attractive aesthetically. They also help improve the environment not only in Edinburgh but further afield too. Trees have a huge impact on the mental health and wellbeing of people in local urban areas by helping to reduce stress and encourage outdoor exercise. We are committed and delighted to be part of the "Million Tree City" initiative that will contribute to a significant increase in the numbers of trees being planted in Edinburgh city."
Take a stand for nature and help combat climate change by donating today. You can find more information about dedicating a tree for Earth Day at https://hillsidehosting.co.uk/tree-time.com.
---
No Comments