Edinburgh & Lothians Greenspace Trust have been working with East Lothian Council to develop a range of tree donation packages to enable more trees to be planted as part of its Climate Change Initiative.
Its aim is to increase and maintain East Lothian's trees by offering a way of commemorating a loved one's life, marking a child's birth, celebrating a special anniversary or just to show how much a person cares about trees and/or East Lothian as a place.
By taking part in Tree Time, donors can choose from a range of packages from £20 to £2,000, all of which will go towards planting more trees in East Lothian as well as looking after existing trees across the county, with an initial focus on planting more street trees.
The higher end of the donation scale offers the opportunity to sponsor an existing tree or pay for a new tree to be planted. A personalised, commemorative plaque will be placed on the tree in recognition of the donation.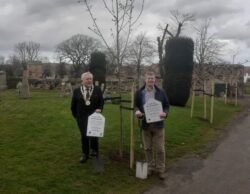 You can also claim Gift Aid which will add 25% more to your donation at no cost to you. A Gift Aid declaration allows Tree time to claim tax back on eligible donations. It means that for every £1 you donate to Tree Time we can claim back 25p, at no extra cost to you.
You can help by making a donation of the various packages available.