 Leith Links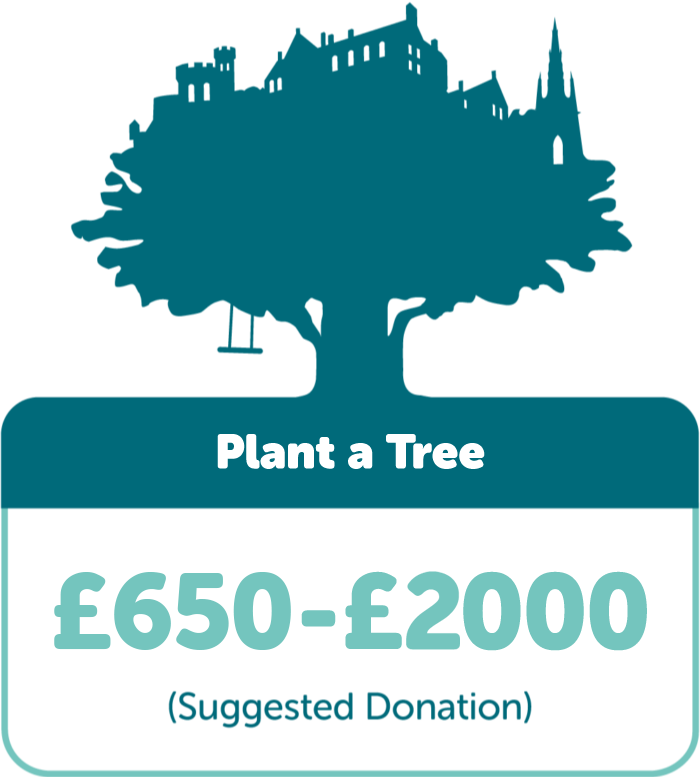 Donate towards a new tree to be planted on a street or in a park. Tree size at the time of planting will be approximately four metres. If you have a strong preference in a part of city not included in the options below, please get in touch.
Your donation will be acknowledged by:
Your donation will be acknowledged by a certificate.
A personalised plaque placed on the tree (max. 140 characters).
Your donation can be recorded in our online journal.
Terms & Conditions
Tree species will be chosen by the City of Edinburgh Council to be best suit ground conditions and location. If donor has strong preference for other species this may be able to be accommodated but only if suitable for location and cannot be guaranteed.
Trees will be planted within 6 months of donation being received. Precise date of planting cannot be guaranteed. We will plant your tree during planting season (November to January) when the trees are still dormant.
The new tree will measure approximately 3-5m when planted.
The marker for each tree indicates the street or park that the tree will be planted, not the exact location…this will be followed up with a more detailed location plan.
We respectfully request that no additional memorial items are placed on, or around the tree.
If the plaque is vandalised it will be replaced once at no extra cost. If it is vandalised again donor will be given the option of replacing plaque again for a fee, or plaque being removed all together.
If the tree has to be removed for safety or other reasons donor will be contacted about an alternative tree to plant for remaining period.
Your donation will go towards the replacement tree as well as the ongoing maintenance.
We will store your contact details within our database as we may need to contact you should there be information to pass on relevant to your donation.
After 10 years we will contact you and ask if you'd like to make another donation to keep the plaque in place. If you don't wish to or we do not receive a reply we will remove the plaque and send it to the last postal address we have for you.