 Monkey Puzzles of Lauriston Castle
One of five Monkey Puzzles (Araucaria araucana) next to the Rose Garden in the grounds of Lauriston Castle. They are all mature specimens of good size. The Monkey Puzzles are natives of Chile and were first introduced to the UK in 1795 by Archibald Menzies and were a popular choice of Victorian gardeners. The first large-scale plantings of Monkey Puzzles took place in 1843, so the trees at Lauriston could be amongst the first in Great Britain.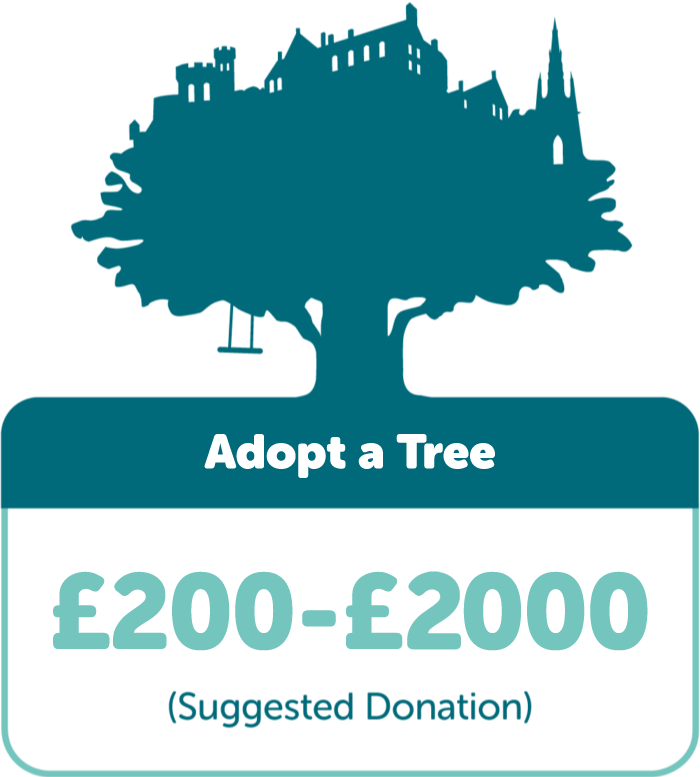 Adopt a tree with TreeTime.
Your donation will be acknowledged by:
Your donation will be acknowledged by a certificate.
A personalised plaque placed on the adopted tree (max. 140 characters).
Your donation can be recorded in our online journal.
Terms & Conditions
The marker for each tree identifies the road or park where each tree is located, not the exact location of the trees placement.
Plaque will be installed within 1 month of donation being received.
We respectfully request that no additional memorial items are placed on, or around the tree.
Although funding is provided by Edinburgh Council for the upkeep and maintenance of Edinburgh's trees, your donation will supplement this, helping us to provide a better service for Edinburgh's trees and green spaces.
We will store your contact details within our database as we may need to contact you should there be information to pass on relevant to your donation.
If plaque is vandalised it will be replaced once at no extra cost. If it is vandalised again donor will be given the option of replacing plaque again for a fee, or plaque being removed all together.
If tree has to be removed for safety or other reasons donor will be contacted with information on how to adopt a tree in another location for remaining period.
The adoption will be up to 10 years with an option to extend. We will contact you and ask if you'd like to make another donation to keep the plaque in place. If you don't wish to or we do not receive a reply we will remove the plaque and send it to the last postal address we have for you.
4 tree(s) available at this location